THAKOON PANICHGUL GETS A NEW JOB
The womenswear designer is named the creative director of Japanese jewelry line Tasaki.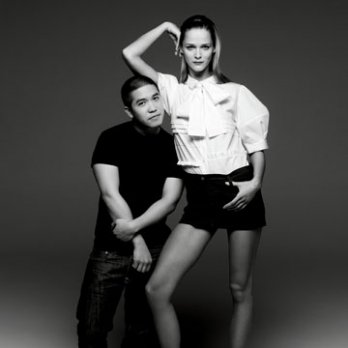 New York
- Thakoon Panichgul was on the tip of every one's tongue during the 2008 presidential campaign. All thanks to First Lady Michelle Obama choosing to wear his pieces. Now the Thai fashion designer, who is known for his feminine yet flirty womenswear creations, is moving on to jewelry but it won't be under his Thakoon brand. Panichgul has been named the creative director of a high-end Japanese jewelry line called Tasaki. The company was founded in 1954 and since then it has become one of the few jeweler that "cultivates, manufactures, and sells pearls." Tasaki also is the only jewelry company in Japan that has the rights to purchase rough diamonds from the De Beers Group. Yes, you can't get any more high-end than that, Blaynistas. Toshikazu Tajima, the brand's board director and CEO, was very excited to work with Panichgul. Tajima said, "I'm looking forward to offering our customers Thakoon's talented interpretation of fashion. The superior creativity of Panichgul caught my attention since the start of the Thakoon brand. Thakoon's unique creativity and eye for beauty will be united with the quality of excellence that is Tasaki. With Thakoon as the creative director, we will reach a new level." Panichgul also shared the same excitement. He responded, "I am very honored to be appointed creative director of Tasaki. It is exciting to be working with fine jewelry as it will unquestionably feed into my overall creative process. I look forward to creating a collection for Tasaki that is unique and powerful. My goal is to approach jewelry design in the same manner that I approach clothing:  always move forward but respect the past." There is a great chance I will not be able to afford a Thakoon-designed Tasaki jewelry, but I'm excited to see what the talented designer comes up with for the company. Congratulations, Thakoon!  
[Story:
FWD
]
Kristina Bustos